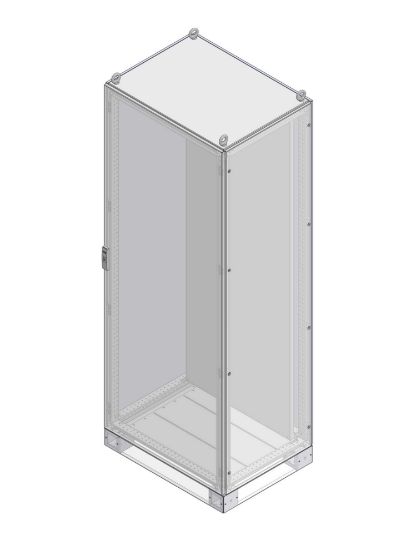 ×
Product specifications
---
| | |
| --- | --- |
| Brands | MEE |
| Origin | Vietnam |
| Height (mm) | 2000 |
| Width (mm) | 400 |
| Depth (mm) | 400 |
product.fulldescription
---
Frame : 4 Uprights with 3 way connection, 4 Width frame, 4 Depth frame. Zam steel 1.5mm
Top : 1 Blind Top panels in mild steel sheet 1.5mm, painted RAL 7035
Bottom: 1 Sliding cable flanges in Ecogal or Zam steel 1.5mm
Rear panel : 1 Blind Rear panel in mild steel sheet 1.5mm, painted RAL 7035
Side panel : 2 Blind Side panels in mild steel sheet 1.5mm, painted RAL 7035
Door : 1 Blind door in mild steel sheet 2.0mm, painted RAL 7035
Mounting plate: 01 Mounting plates in Ecogal or Zam steel 2.0mm
Plinth : Plinth H=100mm: 4 Angle pieces, 2 Front/rear flanges, 2 Side flanges. Painted RAL 7012
DESCRIPTION
The MEM Enclosures is MEE's solution for Distribution and Automation cabinets with modular type structures and floor standing installation
The MEM enclosure is suitable for manufacturing distribution cabinets with rated current up to 6300A, motor control center (MCC), electrical cabinets for automation and control systems.
The MEM enclosure is designed to include standard removable parts, which is convenient in the process of production, storage, packaging, and transportation. Enclosure components are easily disassembled and assembled in a minimum amount of time, saving on transportation and installation costs.
The enclosure frame in Zam sheet metal, Easy to assemble with joining system with 3 axial screws that makes the incredibly sturdy. Patented coupling and frame.
The holes with a 25mm pitch as required by the DIN Standards. Self-threading screws can be inserted into round holes
MAIN CHARACTERISTICS
| | |
| --- | --- |
| Standard | Conformity with the Standard IEC 61439-1-2 |
| Rated service voltage Ue | up to 1000V AC - 1500V DC |
| Rated insulation voltage Ui | up to 1000V AC - 1500V DC |
| Rated frequency | 50-60 Hz |
| Rated impulse withstand voltage Uimp | 12kV |
| Rated current In | up to 6300A |
| Rated short-time withstand current Icw | up to 120kA |
| IP protection class | IP30, IP31, IP40, IP41, IP43, IP54 |
| IK mechanical resistance | IK09-IK10 |
| Segregation Form | up to form 4b |
| Type of material | Metallic |
| Overall dimensions | |
| Height (mm) | 1400, 1600, 1700, 1800, 1900, 2000, 2100, 2200mm |
| Width (mm) | 300, 400, 500, 600, 700, 800, 900, 1000, 1200mm |
| Depth (mm) | 400, 500, 600, 700, 800, 900, 1000, 1200mm |