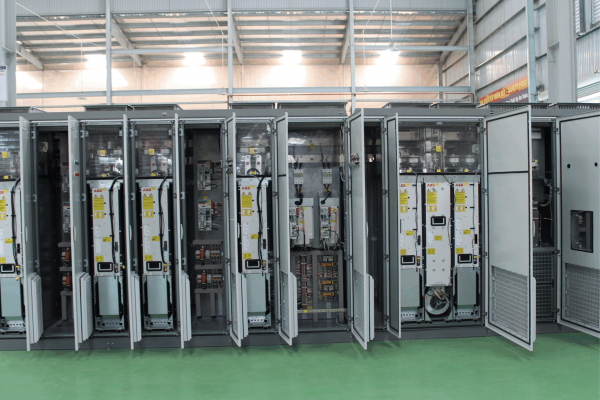 The Motor Control Centre MCC with up to 4000A rated horizontal busbar and 1600A rated vertical busbar. The high horizontal busbar rating also allows the MEE to be used in a switchgear application. Designed for the highest degree of safety, ease of installation and maintenance, reliability, and flexibility, the MCC provides users with the maximum uptime. The MCC provides industry-leading features that guarantee operators the highest degree of safety and efficiency while performing both normal and maintenance operations.
Main characteristics
- Standard: In compliance with the Standard IEC 61439-1-2.
- Rated service voltage Ue: up to 690V.
- Rated insulation voltage Ui: up to 1000V.
- Rated impulse withstand voltage Uimp: 8kV.
- Rated current In: up to 4000A.
- Rated short-time withstand current Icw: up to 65kA.
- Rated frequency: 50-60 Hz.
- Segregation Form: up to form 4b.
- IP protection class: IP30, IP31, IP40, IP41, IP43, IP54.
- Material: Mild Steel; Galvanized Steel; Ecogal; Aluminum; Stainless Steel.
- Finish: Standard color RAL 7035, other colors available on request.
- Overall dimensions:
Height (mm): 1400, 1600, 1700, 1800, 1900, 2000, 2100, 2200.
Width (mm): 300, 400, 500, 600, 700, 800, 900, 1000, 1200.
Depth (mm): 400, 500, 600, 700, 800, 900, 1000, 1200.